Industry 4.0 is the industrial revolution that brings concepts such as "internet of things (IoT)", "big data", "augmented reality", "cloud computing" to our lives.
What Does Industry 4.0 Mean and What Is Its Purpose?
Industry 4.0 is the 4th Industrial Revolution, which aims to bring together the information technologies and the industry, and is based on the communication of devices with each other over a common communication network. Its main purpose is; to reduce human muscle power, to create a faster, more efficient and more flexible structure by using a technical production scheme with less cost.
When Did Industry 4.0 Start?
The term Industry 4.0, 4th Industrial Revolution was first used in 2011 at the Hannover Expo held in Germany. In October 2012, Robert Bosch GmbH and Henning Kagermann formed a working group and presented their work on the term "Industry 4.0" to the German Federal Government. Then, the "Industry 4.0 Strategy Document" was announced again at the Hannover Expo in 2013. Thus, "The term 4th Industrial Revolution" has officially entered our lives. While this strategy document mainly focuses on Germany, it also introduced a new industrial revolution to the whole world in terms of revealing the qualities of the new revolution.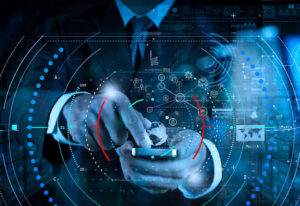 Stages of the Industrial Revolution:
1st Industrial Revolution: The 1st Industrial Revolution, which affected the years 1760-1840, started with the mechanisation of weaving looms in England. The replacement of wood by coal and water vapour increased the power of movement, which led to mechanisation and thus the transfer of production to factories. The old-fashioned companies were now replaced by large factories.
2nd Industrial Revolution: In the 19th century, after the first revolution, steam began to be replaced by products working with electricity, oil and natural gas. The discovery of these fuels paved the way for the invention of vehicles such as automobiles and airplanes. All these accelerated the developments in the field of economy and industry.
3rd Industrial Revolution: It started with the "Computer Age." The first computers were extremely simple, cumbersome, and incredibly large in computing power. Yet today they have opened the door to a world that is hard to imagine without computer technology.
4th Industrial Revolution: It is starting a new era that will create great changes in the current production processes in informatics, internet, artificial intelligence, automation and robotics technologies. With Industry 4.0, it aims to integrate the production chain from the first supplier to the end user with each other with advanced digital technologies and to replace extremely expensive, error-prone muscle power with cheap and perfect systems.
Principles of Industry 4.0
Interoperability: This principle aims for maximum human-machine communication. While people are remotely controlling the work of the machines, when the machines encounter a problem that they cannot solve, they inform the system administrator of this situation.
Virtualisation: It means that the relationship between humans and machines is not physical.
Real-Time Capability: It is the instantaneous collection and analysis of data related to ongoing processes in the factory.
Modularity: It means that individual modules adapt flexibly to smart factories with changing conditions.
Industry 4.0 Applications
Industry 4.0 is a general system with many sub-titles and is based on the principle that all other systems should be in communication with each other. This principle is shaped on the basis of machines working integrated with each other, analyzing data and of course informing people about all this when necessary. Industry 4.0 examples; These are applications where machines communicate with each other wirelessly through sensors. These applications are aimed at producing more with less cost.
Big Data: It is a term used for a wide variety of high-volume and rapidly accessible information. In today's world, where the amount of information and the speed of accessing information have increased so much, the collection of data to form a meaningful whole has become an important issue. For this purpose, the first studies were carried out in the fields of astronomy and genetics. Then, "big data" started to be used in almost every area of ​​life. Information on the diagnosis and treatment of diseases in internet search engines, topics such as internet shopping and many more fall into the field of big data. Big data; It is a term used for the transformation of data collected from many different sources such as photos, videos, blogs into a meaningful and workable format. According to the widespread IT belief in today's Information Age, unstructured data was worthless. But "big data" showed us that the phenomenon described as information dump contains extremely important and useful information as well. In short, big data was like finding treasure in a dumpster. The most important aspect of big data for Industry 4.0 is that it forms the basis of most other technologies. Because the more data is used, the higher the efficiency level of the production processes.
Internet of Things: It is a communication network created by connecting physical objects used in daily life to the Internet through various electronic mechanisms. The basic idea underlying this concept is to connect as many devices as possible to the internet and to facilitate daily life in this way. Moreover, as long as all of these devices are connected to each other, there is no need for each of them to be connected to the internet separately. The biggest advantage of this technology is that it allows to control objects remotely. With Industry 4.0 and the Internet of Things, the amount of data available will reach very serious dimensions. With the combination of the internet of things and industry, it is expected that the quality of production will increase, the costs will decrease, energy efficiency and performance will increase.
For detailed information about IoT, you can refer to our previous article. You can click the link:  Get your Business Smarter with IoT System
Artificial Intelligence: It is the technology that enables the work done by people using their intelligence to be done by computers. This technology actually means that the software and algorithms loaded into machines and devices are used by computer programs that try to imitate human intelligence. This makes the digital technologies we use every day "intelligent". There is also an inseparable relationship between Industry 4.0 and artificial intelligence. A factory, in which there are machines that inform each other and can work in the dark, is of course fully equipped with artificial intelligence.
Autonomous Robots: They are self-sufficient smart machines that can intelligently manage their tasks without the need for a human. Thanks to the fast and most accurate instant decision analysis, these robots minimize human-induced errors and even eliminate them completely in some cases. The interaction between robots, which has become even more important with Industry 4.0, is increasing day by day.
Cyber ​​Security Technologies: It includes technologies applied to protect computers, mobile devices, electronic systems and existing data from malicious attacks. The cyber threat problem continues to increase day by day. One of the most common known cyber threats is malware defined as "malware". Malware is software created by a cybercriminal to corrupt or damage a legitimate user's computer. Industry 4.0 creates such cyber security risks for smart manufacturers and digital supply networks. In order to prevent all these, cyber security strategies should be ready at all times and institutions should integrate cyber security technologies from the very beginning of the process.
Cloud Computing: It is the service of storing files and data on digital platforms. This technology, which usually does not require any installation, preserves existing files in advanced databases and prevents them from being viewed by third parties unless they are made accessible. For Industry 4.0, it is said that "its engine is the internet and its fuel is big data". It is clear then that a large volume of data can only be stored with cloud technologies.
Augmented Reality: Augmented reality is currently considered one of the biggest technology trends in the world. It is often confused with the concept of "virtual reality". The biggest difference of augmented reality from virtual reality is that instead of taking us to a different place from where we are now, it brings virtual reality to the place we live in. It does this by superimposing digital information on real-world items. augmented reality; It is used in many areas including marketing, real estate, logistics, construction, shopping and even education. Moreover, the use of augmented reality is in perfect harmony with Industry 4.0 principles. augmented reality; It is revolutionary in terms of the methods of accessing information and using it effectively. In fact, augmented reality itself can be thought of as an information repository that expands the perceptions of its users. This technology maximizes our perceptual experiences and allows us to interact with all kinds of information.
Advantages of Industry 4.0:
Minimising human-made errors and even eliminating them completely in some cases.
Reducing production costs
Increasing flexibility in production
Providing higher productivity
Enabling to carry out production activities in an environmentally friendly manner
Industry 4.0 is still evolving and companies adopting technologies are realising the potential of Industry 4.0. These same companies are also working hard on how to develop their existing workforces to take on the new job responsibilities made possible by Internet 4.0 and recruit new employees with the right skills.