Mobile applications are a very effective way for your company to increase customer engagement today. The mobile app creation process is not difficult and can be of great benefit to your company. It will give you long-term growth for your business as customer loyalty will increase.
Mobile applications are not just software for large companies. It is possible to make a mobile application that anyone can use. Small and medium-sized businesses are increasingly following the mobile trend, realising that an effective mobile strategy involves more than just a mobile-friendly website. These days, you will notice that many small businesses that you interact with within your daily life, especially during the covid-19 process, have their mobile applications.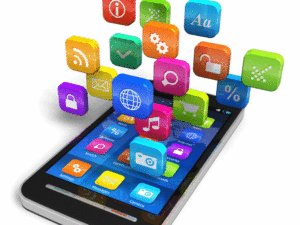 The advantages of why you should have mobile applications for your business:
Geo-Targeting Marketing and Direct Communications: Mobile apps have proven fast and effective in engaging customers and communicating product launches, new services, promotional offers, enhanced features, and discounted prices. These direct communications also bring valuable information about your products and services, such as demographics, geographic locations, and shopping behaviour, helping you understand market demand and improve your sales and marketing strategies.
Build Customer Loyalty with Increased Recognition: Building customer loyalty is a critical and difficult aspect of marketing a business. Mobile apps help facilitate this path by developing a connection between the customer and the brand through constant reminders and notifications. These reminders create awareness about the products and services offered and encourage customers to buy. It also increases brand awareness. Therefore, when an app user needs a product or service offered by the business in the future, there is a chance that the customer will now choose the familiar app over its competitors.
Sell ​​with App while Raising Awareness with Your Website: When potential customers need a product or service, they are more likely to search for it on their smartphone or smart device rather than a laptop. Research reveals that most searches are made while travelling, socialising and waiting for appointments, not during leisure time when there is a laptop or desktop access. Because apps are faster, more interactive, and easier to navigate compared to websites, the availability of an app for your business will likely drive the customer to choose you to purchase. The gist of it is that websites mainly help build brand awareness through social media, but apps are where most of the sales happen.
Important for Customer Engagement: Business-to-customer communication is important for marketing. However, reverse communication is equally important in maintaining customer loyalty. Customers love it when their concerns or complaints are resolved as soon as possible, and this helps businesses build brand loyalty. This is where apps come in and help maintain critical engagement through online help desk and support systems.
Helps You Stand Out from the Crowd: The importance of an app in making your business stand out from your competitors cannot be stressed enough. At this point, apps are still a rarity, and by having one for your business, you can grab the attention of potential customers and capture a large chunk of the market share. When your competitors become aware of it, you can effectively manage customer engagement and build strong customer loyalty with the application.
Increases Brand Recognition for Your Business: A well-designed and well-executed app helps you build relationships with your customer base on a completely different level than interaction on social media and your website. Mobile app development aimed at increasing customer engagement allows you to send notifications directly to the app, allowing you to bypass easily ignored email boxes and essentially reach customers 24/7. With the convenience of on-the-go access, your app provides a place to connect with customers for feedback and special offers, and by syncing your app with social media, you can increase your brand recognition by making it easy for customers to share content with their friends.
Monitoring and Analysing Your Customers Behaviour: Tracking the actions of application users gives you clues about whether you are following the right path in your application. You can see active users on a daily, weekly or monthly basis. With it, you can list the demographics (age, gender, and location) and preferences (device type and operating system) of active users, and track completed conversions such as reservations, purchases, and in-app downloads. You can view users, channels for using your app, and aggregate transactions and revenue from your business app.
Increasing Sales and Revenue: The main goal of all businesses across different business cycles is to generate more sales and generate more revenue. E-commerce and shopping is a huge trend now and in the future, as consumers are more comfortable searching and discovering the products or services they want online through e-commerce, saving more time and effort than visiting traditional physical stores. With e-commerce, 52% of online orders require minimal effort to search, discover and order the desired products and are made from mobile phones or smart devices to obtain the desired services within minutes. You can leverage your business mobile app to add your business products and services to key relevant categories with advanced search options, easy order steps and multiple secure payment solutions to help your business increase sales and revenues by providing the best possible shopping experience.
In summary, people today spend an average of 3.5 hours on the mobile phone. This means that 20% of a person's day is spent on a mobile phone. Therefore, companies have a great opportunity to interact with their customers in mobile applications. Getting started on your mobile app journey can be one of the best things you can do for your business. You have to start taking the time to create a great user experience that will not only increase profitability but also ensure long-term profitability.