Augmented reality technology is becoming more and more involved in our lives. So, what are the uses of this technology and why should businesses use it?
What is Augmented Reality Technology?
Augmented reality technology is special software that connects the camera and computer to a single interactive system.
The main task of the system is to determine the real-size 3D position from the picture taken with the camera. The recognition process takes place in stages. First, a picture is taken from the camera. The program then searches for a specific pattern and recognises the dots in each frame of the video. Thanks to these 2D dots, the reality is created and transformed into a 3D image.
In other words, in Augmented reality, the physical world is combined with virtual objects created by computers. These elements are then combined and sent by projection onto physical surfaces within people's field of view. Content is added or embedded in the real world with the help of smartphone screens, headphones, and devices thanks to Augmented Reality.
In Which Fields Is Augmented Reality Used?
Augmented reality is now actively used as interactive games in the field of entertainment, and as a guide that contains visual information about objects during photography and video shooting in tourism.
Wearable devices and glasses lenses (Google Glass, HoloLens) are used in medicine, office work, production, construction, cars, airplanes, e-commerce, marketing, and many more.
E-commerce
 Augmented reality technology is widely used in e-commerce and marketing today. While brands use AR technology in their marketing activities, in e-commerce, the use of users in product trials and compliance measurements comes to the fore. Nowadays, with the changing consumer behaviours, the importance of Augmented Reality increases in this field, and companies or brands using this technology can gain a competitive advantage.
You can check out our previous article on e-commerce trends and the use of augmented reality by clicking on the link:  E-Commerce Trends in 2021
Healthcare
 Augmented reality, which is expected to revolutionise the healthcare industry, has the potential to increase the effectiveness of medical education by performing many complex surgeries in the medical world without operating any equipment. Learning the details of the human body in 3D format with an augmented reality headset in anatomy class is a high-level experience.
On the other hand, patients can better describe their symptoms by using augmented reality. The difficulties of the patients in explaining their symptoms to the doctor are resolved in this way. At the same time, doctors can see patients with a certain disease much more easily with the simulation they will use. While nurses, who are healthcare professionals, find the veins of patients more easily thanks to the real applications they will use. Pharmaceutical companies can also use the most innovative information on drugs and patients can easily analyse bottle labels prepared in 3D format.
Real Estate
 Augmented reality, which is constantly evolving, also shows itself in the real estate field. Many agencies have started to interact with customers both on-site and over the phone by incorporating technology into their daily practices. It has also made technology an effective and unique way for customers to make decisions. Instead of often hard-to-understand explanatory texts and photographs, the technology used are effective in showing many details to customers at the push of a button. Thus, buyers have the chance to examine the house they want to buy in more detail without going to the real estate agent. At the same time, the technology also allows customers to examine different categories, make comparisons between sites and make informed decisions.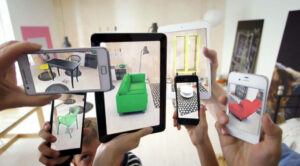 Modelling
 Augmented reality, which many professionals are starting to use; helps to create visuals of products during design and modelling. AR use, allows architects, engineers, and professional designers to analyse how their designs might look and make any changes they want directly to the buildings. Especially city planners can easily make the arrangement and modelling of the whole city by using reality technology. Thanks to technology, any design or modelling work in spatial content offer a unique user experience.
Tourism
 One of the sectors using augmented reality technology is the tourism sector. Information sites such as Trip Advisor or Loney Planet, one of the most important review sites in the tourism sector, have started to use technology to make the sector more successful. At the same time, technology; For travel agents, it provides potential customers with a unique experience before they travel. Thanks to the technology it uses for hotels, marketing, and advertising; experiences the room conditions of the hotels, how they look, what kind of environment they will be in.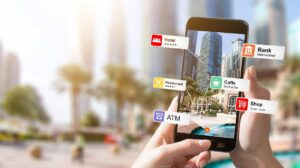 Education
 Augmented reality is a highly visual, interactive method of presenting relevant digital information in the context of the physical environment. This technology connects students and improves educational outcomes.
Augmented reality provides a more optimal method for creating and presenting study guides by placing digital content on a real work environment.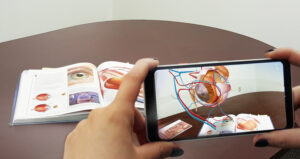 Game & Entertainment
In the gaming and entertainment industry, augmented reality means entertainment in itself. The most common application of the technology is a mobile application of virtual objects appearing on the image on the device camera. Reality applications, which have been developed more and more recently, bring some products that require special hardware. Especially with an augmented reality headset, a different and unique experience is experienced rather than looking at the cameras.
In addition to the game Temple Treasure Hunt, which created a frenzy all over the world, games such as Real Strike and Zombie Go were also released. In general, in games; real world virtual objects, geolocation or QR codes become reality with the character indicated by special beacons. In some games, the players; can create teams, go to work, set up groups, while creating their own tasks. In the music world, it is important to listen to favourite songs and bring together playlists. When a piece is listened to, it is desirable to see a lot of information.
Thanks to augmented reality;
·     Actors' biographies
·     Lyrics
·     Information such as recording, and music video production can be retrieved.
At the same time, the reality effects used in live music shows give visitors a unique experience.
You can click on the link to see the most preferred augmented reality companies in the world: Top 14 Augmented Reality Companies
Augmented reality technology finds use in workplaces and many industries. There are many companies to choose from. In recent years, the technology used for the promotion of products and services in many businesses, brands and marketing agencies is presented with the software and applications of many companies. If you are also considering using this technology for your company, you can contact us to get information about our Augmented Reality service.